Advanced Skin Care
LET YOUR SKIN BREATH FROM WITHIN;
TO BE PURIFIED, REFRESHED AND READY FOR THE WORLD
Here at My Spa Rituals & Esthetics we offer Oxygeneo facials.
OxyGeneo™ provides a unique approach to facial treatments. Recruiting natural physiological processes to increase oxygen levels in the skin and achieve exceptional results. Unlike other technologies, oxygeneo utilizes natural oxygen from within resulting in an effective treatment and immediate results.
3-in-1 Therapy. Better Results. Exfoliate. Infuse. Oxygenate.
What makes OxyGeneo™ the new super-facial? Get the exfoliation benefits of microdermabrasion plus deep facial rejuvenation with the infusion of essential revitalizing nutrients and healing skin oxygenation from within. OxyGeneo™ treatments are suitable for all skin types – any ethnicity and pigmentation, sensitive skin, and even for those who keloid (scar) and couldn't otherwise have abrasion treatments.
Breakthrough OxyGeneo™ Technology provides superior anti-aging results by treating the skin at a deeper level. Exfoliate, Infuse, and Oxygenate your way to youthful skin.
Learn more about HOW IT WORKS below.
Find out why professionals are calling the OxyGeneo™ Facial "better than microdermabrasion".
Skin Plumping & Hydrating
Restored Skin Volume
Renewed Youthful Glow
Increased Collagen
Reduced hyper-pigmentation
Improved Skin Cell Production
Reduce Appearance of Wrinkles
Fast and effective treatment for special events
Safe for ANY skin type!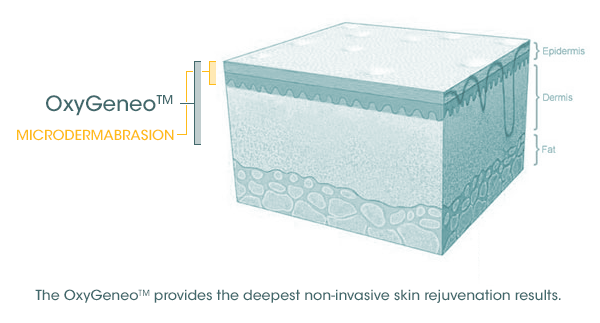 Oxygeneo 3 in 1 super facial with tripollar
Introducing OxyGeneo's TriPollar Skin Tightening using the most advanced radio frequency(RF) technology in the industry! This skin tightening treatment using OxyGeneo™ Tripollar RF Technology is effective, painless and non-invasive with immense benefits. TriPollar RF treatments give the skin a fresh, tight, rejuvenated appearance. The OxyGeneo™ TriPollar handset delivers focused RF energy to the skin surface and subcutaneous layers. The energy heats the skin and causes the collagen fibers to contract inducing immediate skin tightening. TriPollar RF energy is known to stimulate natural collagen regeneration which results in substantial improvement in the appearance of wrinkles. Long term and continually improved results are caused by additional treatments that stimulate the fibroblasts, producing new collagen. This treatment, when combined with the OxyGeneo™ 3-in-1 Super Facial, produces incredible results that have to be seen to be believed
90 min

Oxygeneo 3 in 1 Super Facial
Experience the 3-in-1 super facial professionals are calling better than microderm. Incorporating patented OxyGeneo® Technology for unparalleled skin nourishment & oxygenation, see younger looking skin after your first treatment.
60 min

PCA Pigmentation Treatment
PCA Detox Deep Pore Treatment